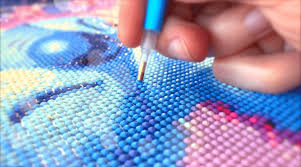 Shop Australian diamond art painting kits and art kits at discount prices. Cheap Prices for 5D and 3D Diamond art kits online and in-store. 
Diamond Art involves sticking gems onto a design to create a mosaic effect. Colourful resin rhinestones are readily applied to vividly painted canvas paintings.
Currently, it is sweeping the crafting world. This creative pastime, also known as Diamond Art Painting, is simple to undertake, inexpensive, and suitable for both children and adults.

In addition, this craft requires no artistic skills and is a fun and relaxing way to create something charming to elevate your home décor.
See What our Customers are saying